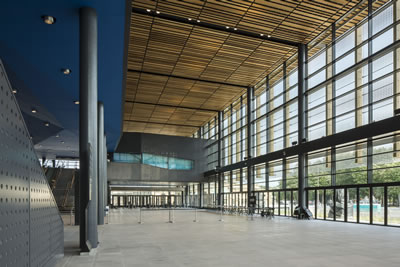 What wood to select? That is the fun part of wood design and why we're passionate about wood.
From Western Red Cedar, Douglas Fir and Tropical Hardwoods to thermally modified and engineered wood (to name a few), there are wood species to match your vision of your structure and its final look, feel and durability.
But, once you pick that wood species, you want to know the finish is going to give it the clarity, sheen and brilliant durability it deserves.
For example, high moisture environments can generate wood moisture content ranges of 20–70%, making the wood susceptible to decay – which would require a specialized preservative treatment. Or perhaps your specifications call for a finish with exceptional clarity. One of Sansin's multi-coat systems will help you create just the right look, in tandem with the right level of protection. And if you want to take advantage of the beautiful grain character that only wood can offer, our family of natural, saturated and translucent colors offer exceptionally crisp, clear tones that bring wood to life.