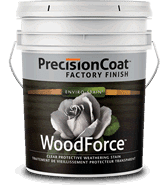 High-performance, ultra low-VOC finish for a naturally-weathered look.
Sansin WoodForce is an ultra low-VOC, water-borne protective wood treatment optimized for factory application that aggressively repels water while allowing wood to breathe.
This high-performing factory finish provides exceptional protection and won't break down with exposure to sunlight, retaining its water-repellency and protecting against weathering and wood rot. Because it erodes gently over time, long-term maintenance is easy – the end user can apply a fresh coat of WoodForce, as needed.
Sansin WoodForce reduces water absorption up to 74% during wetting periods. WoodForce is available in clear, gray tones and vintage colors. It will not peel and can be used for a wide range of interiors and exterior factory applications including decks, fences, wood shingles, gazebos, yard furniture and wood siding.
Colors
---
Photo Gallery
---