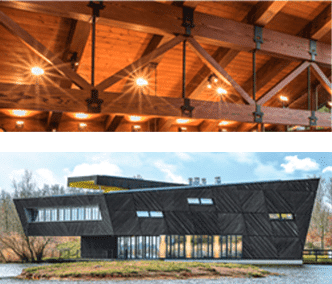 BEAUTIFUL, DURABLE AND EASILY APPLIED.
Backed by over thirty years of proven performance with large commercial, residential and mass timber wood buildings and structures, Sansin is the global leader in developing high-performance industrial and factory finishes that set the benchmark for environmentally friendly formulas.
Every building has its own profile and specifications. No matter the type of substrate, design or building challenge, Sansin offers a wide range of fire retardants, undercoat treatments, finishes, and preservatives to get the job done right – and more naturally.
Specially formulated for pre-finishing and machine application, Sansin coatings deliver the color, durability and performance that architects, engineers and builders can count on.