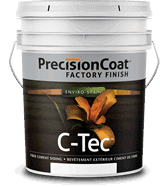 The most durable choice for fiber-cement siding.
Long-lasting protective coating that enhances beauty, repels water and helps prevent UV degradation. Available in 17 beautiful standard colors.
New technology and designs have made fiber-cement siding look ever more realistic and sophisticated. Now with Sansin C-Tec, you can add the warmth and color of wood to your fibre-cement siding. C-Tec is highly durable and resistant to wear, dirt and marring and enhances the natural water-repellent characteristics of fiber-cement siding while protecting against UV degradation. C-Tec can be relied upon to deliver years of beauty and protection.
The C-Tec Color Palette
Sansin C-Tec is available in a wide range of natural and solid-hide colors – and should you have a color in mind that isn't available in our collection, our custom mixing program lets you bring it to life.
Colors

CT-03 MONTEREY RED

CT-04 AUTUMN GOLD

CT-05 ESPRESSO

CT-22 SLATE BLUE
1230 HONEYDEW
1231 WHITEHOUSE

1232 BACKSTAGE

1233 BOULDER

1234 EAGLE RIDGE

1235 SPICY

1236 GRAPHITE

1237 LAMBSKIN

1238 PORCINI

1239 CHESTNUT BRONZE

1240 FOLIAGE

1241 FERN

1242 BUFF
PLEASE NOTE:
Our colors have been optimized for accurate viewing across a variety of media. However, due to differences in how screens display color, actual color may vary. See your dealer for details.
Color may vary depending on texture, grain, color, porosity and type of wood and may not be exactly as illustrated.
Always test the purchased product on an inconspicuous part of the project to ensure the color and transparency meet expectations of your control sample.