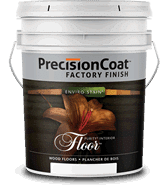 Ultra-tough gymnasium grade finish for floors.
Precision Coat Purity Floor amplifies the natural tones and character of your wood floors.
Floor is the ultimate in beauty and protection for wood surfaces of all kinds, including softwoods like pine. Available in satin and gloss formulas, Floor enhances the grain and personality of your wood floors dramatically.
No matter what your level of experience, a professional-grade finish is easy to achieve. During application, Purity Floor levels extremely well, builds protection quickly and dries to a perfectly even, glass-like finish. Soap and water clean-up makes tidying up after your project simple. Floor is UV resistant, washable, and environmentally friendly
For optimum UV protection or if a special color or toning is desired, use a pigmented version of Sansin Purity Interior Stain as the first application.
Photo Gallery
---