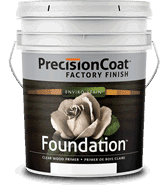 Penetrating base coat that improves top coat performance.
Foundation is a penetrating base coat that offers up to 6 months of complete wood protection against weathering and UV during construction.
Precision Coat Foundation penetrates naturally, carrying solids deep into the wood where they form a monolithic bond with the wood tissue – increasing dimensional stability, reducing checks and wood movement. In addition to protecting against harmful UV radiation, it enhances the natural moisture resistance of wood surfaces without causing adhesion issues for subsequent top coat applications. When it comes to protecting wood, Sansin Foundation is simply the best way to start. Available in Fir, Cedar and Light Wood.
PLEASE NOTE: Label may not appear exactly as shown.